Potato, Onion, Egg Casserole
jaslobod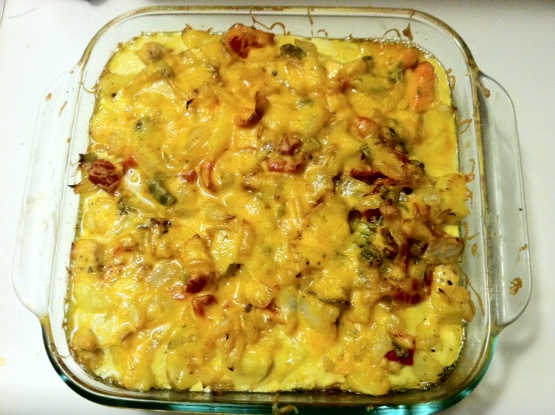 It was very good :) For the chicken I sauteed it in a about 1/4 cup sweet wine, 1/8 cup of veg oil, tablespoon of worcestershire sauce, teaspoon and a half of rosemary, salt/ pepper, and ~ 1/4 cup of minced garlic and poured that in the mix too. Also I used 3 eggs and a little bit of egg white. I out in a bit more potatoes and carrots to add some bulk to it. It came out great though!!! I think next time ill do more onion and bell pepper, plus add some mushrooms to it and maybe bread crumbs? Its a good meal on a tight budget :) I can't wait to make it again! ( Also the roommates loved it too)
Preheat oven to 375°F.
Spread 1 TBS margarine in a casserole dish. (You can always use less, that's just an estimate).
Melt 1 TBS margarine in a skillet and sauté the onions and green bell pepper until desired tenderness.
Combine eggs, chicken, cheese, potatoes and seasonings in another bowl.
Transfer to greased casserole dish, top with sautéed onions, green peppers, 1/2 cup cheese and parsley. Bake uncovered for 30 minutes.
:D Enjoy!