Potato Noodles (Schupfnudeln, Bubespitzle, Wargele)
Nif_H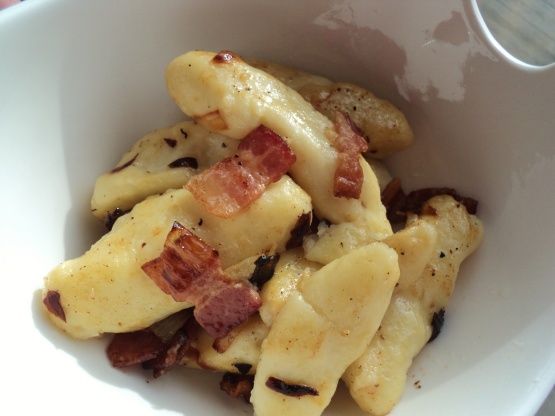 From the Swabian region of Germany. These are so comforting. After cooking, fry in butter. Kids love these! Makes a very good side dish w/ meat and salad, or hot veggies.

Top Review by Nif_H
These are good ol' comfort food! I had to use over a cup of flour for these to work so that took a bit of time but they were worth it. I cooked them as directed and then we sauteed them in some bacon and onions for a couple of minutes. Made for the German game, "More Than Sauerkraut And Dumplings!". Thanks AprincessMOM! :)
Peel the potatoes and put through a ricer, or grate fine.
Add eggs, a pinch of salt, and as much flour needed to form a stiff dough.
Knead well.
On a floured surface, form into a long thick roll (about 4 inches thick). Lengthwise, cut off about 1/2 thick pieces. Form into rolls, about the size of your pinkie finger, maybe just a bit bigger.
Put into boiling, slightly salted water. When they float there done. It's a good idea to test one before continuing. If it falls apart in the water, put a little more flour into the remaining mixture.
Drain and fry in butter until lightly browned.
Serve with meat or sauerkraut.