lets.eat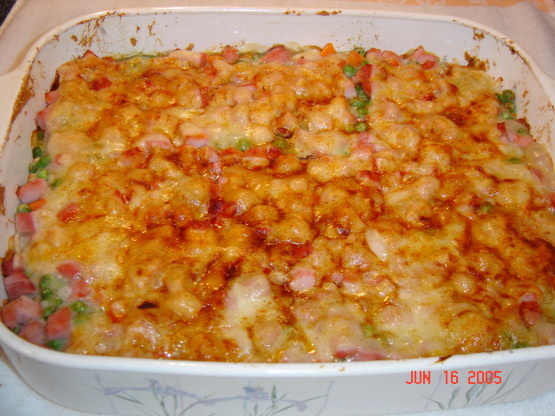 From Bisquick made Easy, adapted to our tastes

A very nice hot dish and a perfect way to use up some leftover ham. I can see why this would be a kid favorite. All through the recipe, I kept thinking the order of assembly was backwards (i.e., crust on the top instead of the bottom), but it turned out just fine making it as written. For us, the shredded potatoes sort of disappeared into the crust and there wasn't quite enough sauce. Perhaps the addition of a half can of milk to the mushroom soup would improve the sauce situation.
Heat oven to 400°F
Grease a 13x9x2 pan.
Mix baking mix and water in bowl until moistened.
Place a plastic storage bag over your hand and slightly grease the bag with shortening.
Carefully spread mixture in pan with 'glove', it will be a thin layer.
Sprinkle potatoes over the dough.
Spread soup over the potatoes.
Layer the peas and carrots, and ham evenly over the soup.
Sprinkle with swiss cheese and the paprika if desired.
Bake 23-25 minutes or until the edges are golden brown and the cheese is melted.
Let stand 10 minutes before cutting.