Lainey39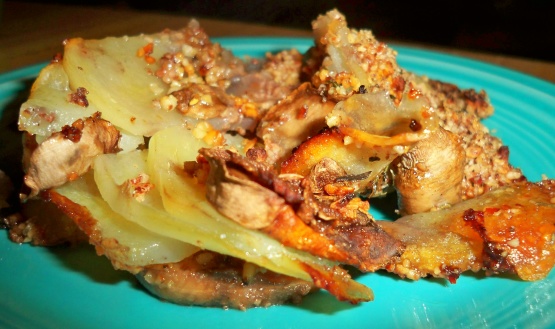 A delicious side dish which I've adapted from a recipe I found on an English website and which I am posting for the 2005 Zaar World Tour. Because I was expecting a cheese topping, this recipe had me looking up "gratin" in culinary dictionaries. What I found for "gratin" was "covered with bread crumbs and sometimes butter and grated cheese, and then browned in an oven". Something else I've learnt since this tour began. For me, "gratin" has always evoked images of either a cheese sauce or a cheese topping. Obviously topping this dish with grated cheese is an option, but the dish would be healthier without the cheese! Again, exercise your culinary discretion!

Yup, this is yummy! My walnuts were starting to burn at about 15 minutes left, so I covered it all with tin foil and all was fine. This has a nice combo of ingreds., tastes great and I will be very happy to make it again. Thanks!
Preheat the oven to 425°F/220°C/Gas 7.
Coat a 9-inch square casserole or baking dish with olive oil, and lay the rosemary sprig on the bottom.
Layer half of the potato slices over the bottom of the dish and top with half of the sliced mushrooms, half of the garlic, half of the thyme and half of the walnuts; and sprinkle generously with the olive oil, salt, and pepper.
Top with the remaining potatoes, then scatter the remaining mushrooms, garlic, thyme and walnuts over the top of the mixture, and sprinkle with olive oil, salt and pepper.
Bake, uncovered, until the top is golden and crusty, about 1 hour.
Serve hot.