Potato Leek & Mushroom Soup
Annacia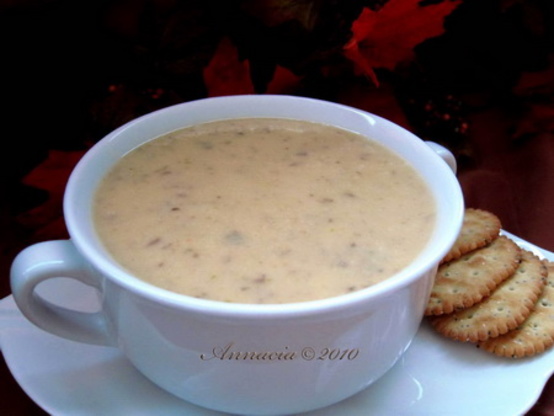 An earthy, delicious soup that's very easy to make. This is a recipe that originally came from The Enchanted Broccoli Forest that I modified to include mushrooms and less milk. For the stock, I prefer to use Basic Light Vegetable Stock, Basic Light Vegetable Stock. Enjoy!!

Yum. I used 1 med potato & a large sweet potato. Due to that change I left out the carrot so the finished product wouldn't be too sweet. Would work well with pumpkin.
1. Place potatoes, leeks, celery, carrots, mushrooms, butter, and salt in a pot, and cook over medium heat, stirring until the butter is melted and the vegetables are coated.
2. Add vegetable stock, bring to a boil, cover, and reduce heat to a simmer. Cook until the potaotes are tender (20-30 minutes).
3. When the potatoes are tender, remove the pan from the heat and puree it's contents with the milk, using an immersion blender, or food processor. Make sure the mixture is absolutely smooth.
4. Return to pot, add thyme, if using, and pepper. Check if you need more salt. Heat soup gently, until just hot, and serve.