Potato-Leek-Mushroom Soup
Derf2440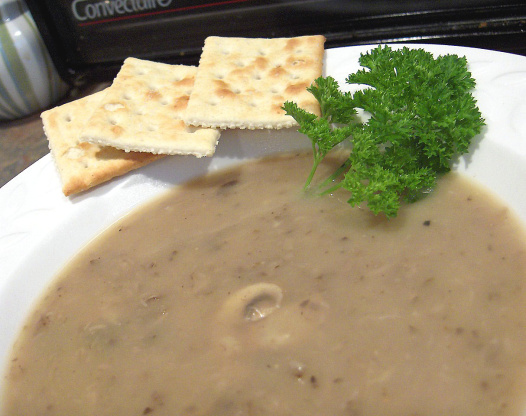 As usual, I tweaked a favorite recipe to make it even better. This is SO easy, and tastes even better the next day. Feel free to adjust any of the ingredients to your liking. It will come out great! I highly recommend serving with my Spicy Croutons on top.

YUM! I can't decide if this is a mushroom soup with potatoes, or a potatoe soup with mushrooms. My local grocery does not have cremini mushrooms, so I used baby portobellos (I clicked on "cremini" and it said portobellos are the mature form of creminis, so a baby port should do). Anyway, I used an 8oz. box of sliced baby ports, and I used half-and-half. I chopped the potatoes with my pampered chef chopper, so they were fairly fine. After I simmered it, I decided to ship the puree step, because it looked so pretty with the mushroom slices floating in it! I added 2 tsp. of salt, which was perfect for my taste. Good Soup!
Heat butter in large stock pot over low heat.
Cook shallots and garlic until tender.
Add potato and leeks- cook for 10 minutes, uncovered, stirring occasionally.
Add stock or water, salt and pepper and bring to boil.
Reduce to simmer, add mushrooms and continue for 15 minutes, or until potato is tender.
Whiz with blender stick, or blender in batches (careful with hot in blender).
Add cream or milk and adjust salt and pepper to taste.
Serve with my Spicy Croutons.