Ms B.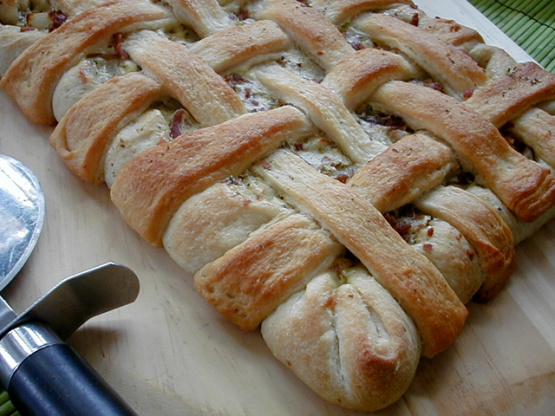 From the Pillsbury website and introduced to me by Richard-NYC. I didn't use the frozen roasted potatoes listed in the ingredients, and instead roasted diced potatoes and onions that had been tossed with some olive oil, garlic and Italian seasoning to include in this pizza. Serve with a fruit salad for breakfast, or a tossed green salad for lunch or dinner. Could also be cut into tiny squares and served as an appetizer. This is an absolute carb-fest.

The presentation of this pizza is very nice. Mine turned out just like the pic! I followed the recipe exactly as written (except I made my own bacon bits). My husband (who usually does not care for pesto!) and mother-in-law both gave 2 thumbs up. I agree! Thanks for a different, tasty brunch/lunch idea, Ms. Bold.
Heat oven to 350°F Cut small slit in center of pouch of potatoes. Microwave on High 2 to 3 minutes or just until warm; set aside. In small bowl, beat cream cheese, Italian seasoning and eggs with electric mixer on medium speed until well blended; set aside.
Line large cookie sheet with cooking parchment paper. Place pesto in small strainer over bowl to drain off excess oil. Lightly brush oil from pesto onto parchment paper. Unroll pizza crust dough on paper-lined cookie sheet; starting at center, press out dough into 14-inch square.
Spread pesto over dough to within 1 inch of edges; sprinkle cheese over pesto. Roll up edges of dough to make 11-inch square. Spoon potatoes evenly over cheese. Pour egg mixture around potatoes. Sprinkle with bacon bits.
Separate breadstick dough into 10 strips; set garlic butter aside. Twist and stretch each strip of dough over potatoes in lattice pattern, tucking ends of strips under pizza dough. Remove cover from reserved garlic butter; microwave on High 10 seconds to soften. Brush garlic butter over edges and strips of dough.
Bake 30 to 40 minutes or until edges are browned and center is set, covering with foil during last 10 minutes of baking if necessary to prevent excessive browning. Immediately remove from cookie sheet. Cut into rectangles to serve.