Potato Latkes (Potato Pancakes)
karen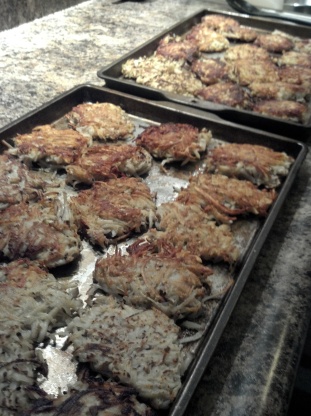 Latkas are a tradition for Channukah, but they are great anytime. This recipe makes about 15 latkas, but can easily be doubled or tripled. Easy to make, just allow time to stand at the stove with multiple frying pans. I use every burner that is open to speed it up. Traditionally served with applesauce on the side. Some people also top the pancakes with a little sour cream.

These were delish! Next time, I will take Sweet PQ's suggestion and squeeze the potatoes out a bit before adding the rest of the ingredients. There is only 2 of us, so next time, I would cut the recipe in half! My only complaint....my stainless steel frying pan came out looking ugly. Next time, I would use my electric griddle to make these.
Wash and cut the potatoes small enough to fit through the top of the food processor for shredding. DO NOT PEEL.
Add potato & onion to the food processor using the shredding blade, alternating between the two (the onion keeps the potatoes from browning).
Mix beaten eggs, flour and salt in a large mixing bowl. Add potatoes and onions and stir well.
Heat 2 tbsp oil over medium-high in skillet (use multiple skillets to speed up the time to cook).
Using a slotted spoon, scoop about 1/3-1/2 cup of potato mixture into spoon, allowing excess liquid to drain back into the bowl.
Drop potato mixture into hot oil in frying pan.
Flip over when bottom is browned, then smash down to flatten into a pancake.
Fry on 2nd side until brown.
Drain on paper towels and then transfer to a cookie sheet in a single layer.
Repeat until all of the latkas are done.
At this point, the latkas can be served immediately, frozen or refrigerated to be served within 24 hours.
NOTE: Reheat refrigerated latkas at 350 degrees for 20-30 minutes and frozen ones at 450 degrees for 7-10 minutes.