petlover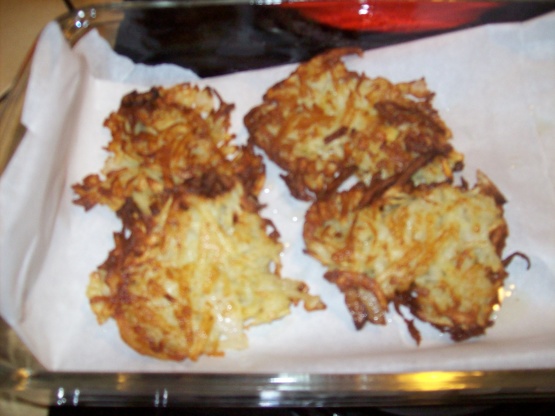 These were excellent! They were fairly quick to make, and they turned out fine when I replaced the matzo meal with flour. I'm going to make them again for Christmas! Thanks for a great recipe!
1

egg, beaten

2

tablespoons matzo meal

4

medium potatoes, peeled and shredded (4c.)

1

small onion, finely chopped

1

tablespoon cooking oil
In a large bowl, combine egg, meal, 1/8t.
salt and a dash pepper.
Rinse potatoes; pat dry with paper towels.
Stir potatoes and onion into egg mixture.
In a large skillet, heat 1/4c.
cooking oil over med.
heat.
For each latke, spoon about 2T.
batter into the hot oil; spread to make a circle about 2 1/2" in diameter.
Cook for about 2 1/2 minutes or until golden brown; turn and cook on the other side the same amount of time.
Add more oil during the cooking as necessary.
Drain on paper towels and serve with applesauce or sour cream.
Makes approximately 32 latkes.