Potato, Ham, Onion, & Chipotle Soup
Rita1652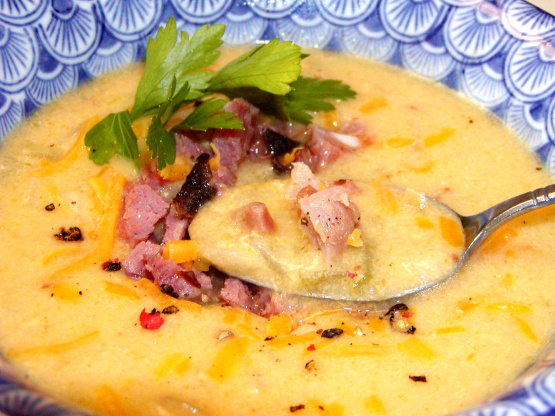 This creamy, chunky, cheesy, smoky, spicy soup will warm up anyone on a cold night! Total Comfort food! "Will soothe any soul"! I used roasted garlic but fresh will be great too. Take note I used no salt because I found the ham did it job. You're welcome to season as you wish.

This is absolutely wonderful! I also added a Mexican cheese blend of shredded cheese.
In a large heavy bottom pot, heat oil add bone,onions,celery, and pepper sautee 5 minutes.
Add garlic,potatoes, sauce,chipotle,water and milk bring to boil then lower heat to simmer, cover and cook for 20 minutes till potatoes are tender.
Remove ham and cool when cool enough to handle dice meat set aside.
Remove 1-2 cups soup and place in blender with flour and blend till smooth. Return to pot with the cheese. Cook 5 minute and stir till melted.
Garnish with diced ham, parsley and or cheese. Top with a few grinds of fresh pepper.