Potato, Ham & Black Bean Spanish Omelet
Prep 15 mins
Cook 30 mins

A flavor-packed version of the Spanish omelet that can be served for breakfast, brunch, lunch, dinner or as an appetizer. It's an easy, one pan dish that can be as simple or elaborate as you want. Any veggie or meat can be used but this particular combination was created for RSC # 15. Thanks to SusieD for noting the additional oil needed. I've updated the recipe to allow for that. :)
Directions
Heat olive oil in large skillet on medium-high heat. Add potatoes, separating slices if necessary, onions, bell pepper and roasted garlic. Spread mixture evenly over bottom of skillet, sprinkle with a bit of salt and pepper, stir and then allow to brown slightly. When bottoms are browned, turn potatoes over to brown the other sides.
Meanwhile, in large mixing bowl whisk eggs and spices together. Stir in ham and black beans.
When potatoes are cooked through, pour everything into the bowl with the egg mixture. Stir gently but thoroughly.
Put the skillet back on the stove to re-heat slightly and then pour entire mixture back into the skillet. Spread out as evenly as possible and let sit for a minute. (Adjust burner temp a little lower, if needed, to keep the egg from burning.).
When mixture begins to set, gently lift the edges with a rubber scraper or spatula and tilt the skillet to allow the wet egg to run underneath. Continue around the pan until no more egg runs & the top is beginning to set.
When top looks only slightly wet, use a spatula to divide the mixture into wedges (4 or 6) and carefully turn each wedge over to brown the top slightly and finish cooking the egg.
When egg is cooked, serve each wedge with dollops of sour cream and salsa.
Reviews
Most Helpful
This recipe was much more than I expected. It was so good, had a nice blend of flavor, and goes into my keeper cookbook. One could tell that thought went into balancing the mix of contest ingredients. The omelette was much like a stovetop frittata and produced hearty servings. I sliced the potatoes paper thin on a mandolin, used both red & green peppers, and substituted mushrooms for the black beans. My only problem was I started out with the listed amount of oil in a large, non stick skillet, but soon had to add more to the potato/ vegetable mixture. I also used a small amount before pouring the eggs back into the skillet. The dish had a nice crust & was easy to turn using the wedge method. Served with fresh fruit for brunch on a snowy day. Thank you for your contribution to RSC & good luck!

GREAT! We both really liked this with salsa and sour cream (low-fat yogurt). I left out the ham as we are vegetarians. My only problem with this is that it turned out a tad messy because it didn't hold together. So what? It tasted great! Thanks so much and good luck on RSC#15!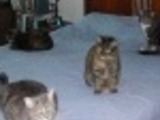 We really enjoyed this. I don't normally make any kind of omelets but thought this one looked too interesting to pass up. We topped our servings with salsa and really liked the kick it gave. I loved the black beans in this. One of the roomies put some of his in a heated flour tortilla to make a wrap. He swears it's the only way to eat this. Thanks so much for sharing. Good luck in the contest.