KateL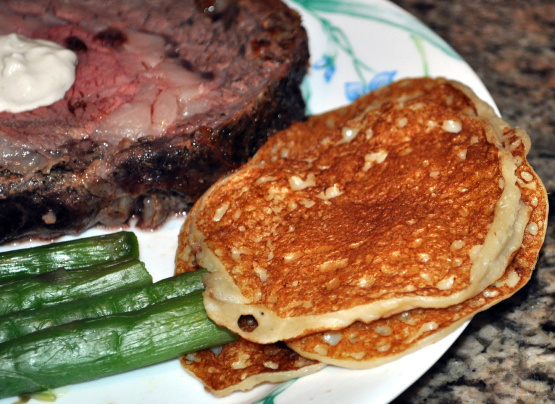 Another childhood favorite. Mom would serve these for dinner along with lingonberry preserves. Prep time includes 2 hours to rest the batter.

Top Review by KateL
Very nice. I chose these as healthier than mashed potatoes, and yet they provided a wonderful potato presence next to my Recipe#126865. First I tried cooking with ghee in my All-Clad-style chef's pan; the batter stuck stubbornly to the pan. So I switched to a non-stick pan with a little canola oil, which worked very well. I chose this recipe partly because my new mixer has a food processing attachment and has a shredding plate just for potatoes for potato pancakes (how could I refuse!). Next time I will also get some ligonberry jam to top them. Made for The Wild Bunch of ZWT8 for its visit to Great Britain.
Beat the egg and a little of the milk, then add the flour, sugar and remaining milk a little at a time while beating.
Allow to stand for 2 hours.
Peel and grate potatoes, then add to the batter and mix thoroughly.
Season with salt and pepper.
Heat a skillet over medium high heat.
Melt a little butter in the pan, just enough to coat the pan.
Add a thin layer of batter.
Cook on each side until golden brown, and place on a warmed serving platter.
Continue with remaining batter.
Serve immediately with bacon and lingonberries.