Potato Gratin With Peppers, Onions, and Tomatoes
WiGal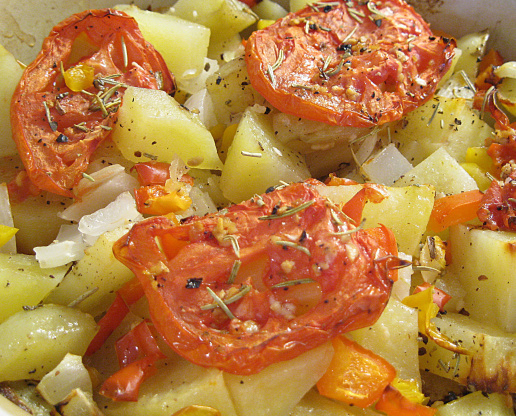 I've saved this recipe for several years and am putting it here for safekeeping so that I can find it again. It sounds yummy. Recipe Source: A PASSION FOR POTATOES by Lydie Marshall

Top Review by WiGal
Perfect for those of us with a passion for potatoes and oven meals! Actually have made this twice within the last week -first time exactly as posted and everything was fine but the second time I cranked up the oven to 400 for last 30 so I could roast some corn in oven at SAME time and that worked out fine. I used rosemary with the oregano which my photo shows. Thanks lazyme for posting. Made for Potato event in Photo Forum.
Peel and slice the potatoes 1/8-inch to 1/16-inch thick (6 cups).
Preheat the oven to 325 degrees.
Dribble 1 tablespoon olive oil into a 2-quart rectangular or oval baking dish 14 x 8 x 2 and scatter 1/4 of the minced garlic over the bottom of the pan.
Arrange the vegetables in layers, starting with potatoes and peppers, finishing with tomatoes and onion.
Sprinkle with salt, freshly ground pepper, garlic, and oregano between each layer.
Pour the remaining olive oil over the surface and bake in the oven for 1 1/2 hours, or until fork tender.