Potato Gratin With Broth and Parmesan
JustJanS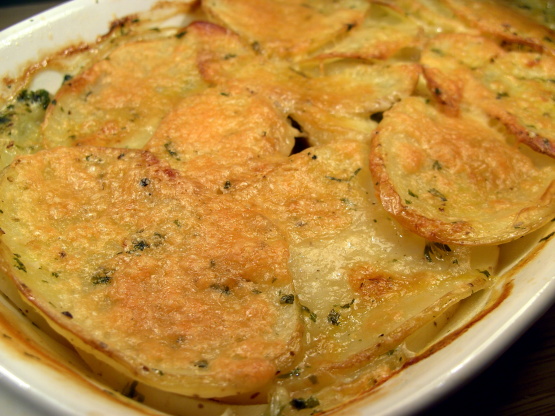 This is a simple and delicious Potato Gratin. I usually add some fresh minced herbs such as sage, thyme or parsley. I also never peel my potatoes no matter what potato dish I am making. (Except for gnocchi lol) Prep time is approximate. This is adapted from Cooks Illustrated, Nov. 1995 issue. I hope you enjoy as much as we do!

This is a great recipe! The initial simmering of the ingredients seems to release the starches in the potatoes and makes the finished dish amazingly "creamy". I used fresh parsley, thyme and sage from my garden, didn't peel the potatoes and subbed the unsalted butter with a low-fat spread (it worked fine). This one will get made OFTEN!
Adjust oven rack to center position and heat oven to 350 degrees.
Rub bottom and sides of 5- to 6-cup gratin dish or shallow baking dish with garlic. Mince remaining garlic and set aside. Once garlic in dish has dried, about 2 minutes,spread dish with half the butter.
Bring broth, salt, pepper, bay leaf, cayenne (if desired), potatoes, other herbs if you are using and reserved garlic to boil in medium saucepan over medium-high heat, stirring occasionally with wooden spoon (liquid will just barely cover potatoes). Reduce heat and simmer until liquid thickens, about 2 minutes.
Pour potato mixture into prepared dish; shake dish or use fork to distribute potatoes evenly. Gently press down potatoes until submerged in liquid; dot with remaining butter.
Bake for about 1 hour 15 minutes until golden brown, basting once or twice during first 45 minutes and topping with grated parmesan cheese after 45 minutes. Let rest 5 minutes and serve.