Parsley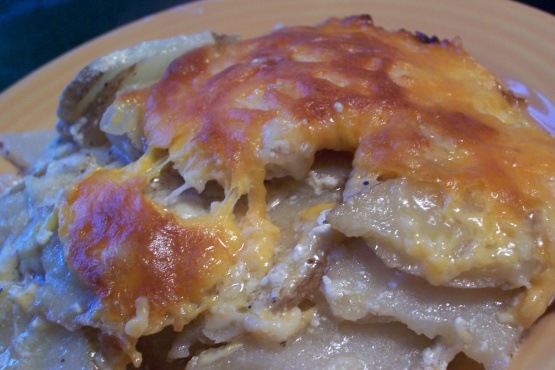 Judi generously shared this recipe with me after Thanksgiving dinner one year. Everybody loved these potatoes.

My favourite potato dish, and it had been too long since Id made it. Very similar to a gratin that I make but I have misplaced my recipe and when looking through your recipes GinnyP I came upon this and thought...yess!! Very rich and creamy, and love the added cheese, thanks for posting.
Preheat oven to 425 degrees F.
Peel the potatoes.
Then with a mandoline, thinly slice.
Begin layering them into a very lightly oiled 9x13 baking dish.
Season each layer lightly with salt and pepper and sprinkle with grated cheese and onion.
Repeat 3 or 4 times and end with a sprinkling of cheese.
Pour heavy cream over all.
Bake, uncovered, in the upper third of the oven for 45 to 50 minutes.
This dish can wait, loosely covered, for half and hour or so.
To hold it any longer, stop the cooking process just before the last bit of liquid has been absorbed and heat gently just before serving.