Potato Gnocchi With Gorgonzola
French Tart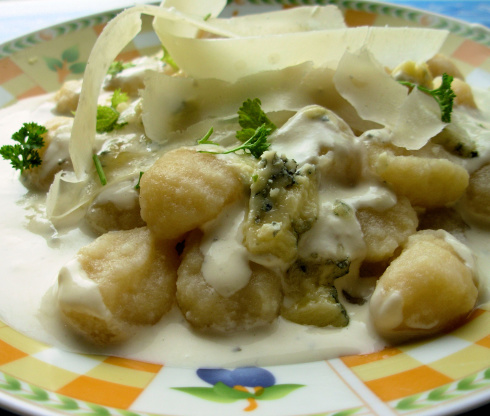 Delicious, Creamy and cheesy Italian dish that your whole family will love. We like it with Gorgonzola Cheese, but you may use a substitute. Hope you enjoy! From Italian Cooking and Living.

Fabulous Leslie! I cut back on the recipe and made the gnocchi with 1 lb of spuds, there are only the two of us! I also subbed the heavy cream for creme fraiche as I do not use cream often, and always have creme fraiche in the fridge.........the combination of the cheeses and creme fraiche was fabulous! I LOVE all blue cheese, and so I did use gorgonzola, and left a few chunks whole to sprinkle on top of the finished dish with the parmesan. I sprinkled some freshly chopped parsley over for colour before serving for a delightful lunch today! Made for the Aus/NZ recipe swap and a keeper for us darlink! FT :-)
Make the gnocchi:.
Peel potatoes.
Boil the potatoes for about 20 minutes in salted water until tender.
Pass potatoes through the fine disk of a potato ricer, and cool.
Pour the potato onto the counter, and begin to mix in the flour.
Add a pinch of salt and gather into a dough.
Cut the dough into 4 pieces, and roll into finger-thick logs.
Cut each log into 1" pieces, and press each over the reversed tines of a fork (the resulting ridges allow the gnocchi to grab onto the sauce later).
Now dust a tray with flour and line the gnocchi in a single layer on top of it.
Set aside, and bring a large pot of salted water to a boil.
Once boiling, drop in the gnocchi, and remove them with a slotted spoon when they rise to the surface (this means they are ready).
Meanwhile, crumble the Gorgonzola into chunks, and melt in a pan over medium-low heat with the butter and cream.
When ready, combine the gnocchi and the sauce, sprinkle with the Parmigiano, and serve.