Jazmina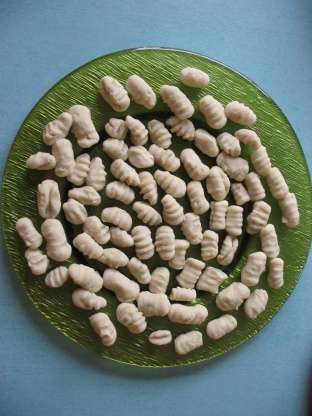 My daughter requests this often. I make bigger batches and freeze for future dinners.

Great. Love it everytime and SOOOO easy to make.
Mash hot potato on flat work board or table.
Add flour on top and mix well to make a soft and elastic dough.
On floured surface, knead dough well until it's pliable, 5 - 10 minutes.
Try not to use too much additional flour.
Add some reserved hot water if needed.
Make one large ball.
Break off small pieces at a time and roll into long strips.
Cut into 1 inch pieces.
Press middle of each piece with 2 fingers and roll toward yourself to curl gnocchi.
Cook in boiling water for a couple of minutes, until tender.
Drain and serve topped with tomato sauce and grated cheese.