Coasty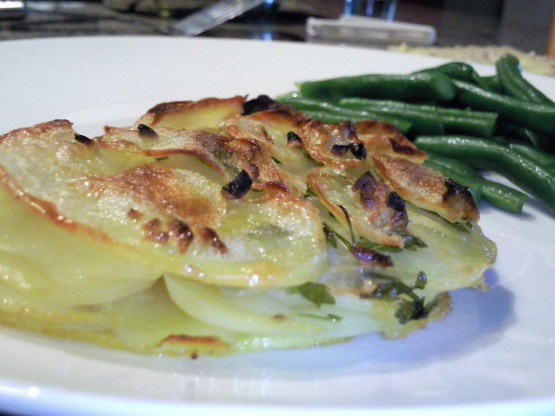 A very simple basic galette from one of our National supermarkets as part of a Christmas feast, though I think it is a dish you could serve at any time of the year. Also instead of red potatoes or desiree, you could use pontiacs. Preparation time could vary depending on whether you use a mandolin or food process or cut the potatoes with a knife.
Preheat oven to 200C or 180C fan forced.
Brush a 20cm springform pan with melted and then combine the remaining butter and garlic in a small bowl.
Peel potatoes and slice as thin as possible (would suggest a mandolin or food processor).
Make a layer of potatoes in the base of the pan, overlapping slightly and brush with some garlic butter and season lightly with salt and freshly ground black pepper.
Repeat layers, brushing each with garlic butter and seasoning with the salt and pepper every couple of layers.
When you have made the final layer, press down to compact the potato, before giving a final brush of butter.
Stand pan on a baking tray, cover with foil and bake for 1 hour, uncover pan and cook for a further 30 minutes or until potato is tender and the top is a golden brown.
Run a knife around the inside of the pan and release the sides and cut into wedges to serve.