Derf2440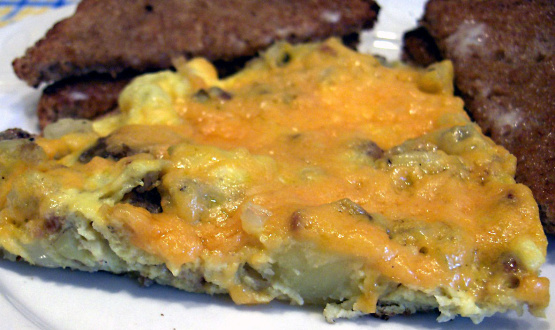 I posted this in the new forum for 30 minute meals and was asked to post it here as well! It is fast easy and satisfying for brunch or supper. My mother used to make this. Of course not with frozen hash browns. :-)
In a large oven proof skillet (10-12 inch) heat the olive oil.
Add the onion and bacon and sauté until onions are soft. Sometimes I use leftover chunks of ham (from freezer).
Add a generous layer of the potatoes. No need to thaw. You may not need the whole bag. Save the rest for another use. :-).
Toss well with the oil.
Season with the salt and pepper as well as the thyme. Toss again.
Cook until underside turns brown.
Turn over and brown on other side. Peek underneath with your spatula.
Now pour your beaten eggs over the top, and lift around the edges to let some run underneath.
When the eggs start to set on top sprinkle with the cheddar cheese (more or less depending on what you have on hand).
Now place the skillet in your pre-heated 375°F oven and bake until cheese is melted.
Serve in wedges with a salad. Or at breakfast with fruit. This should take no more than 30 minute total. Enjoy,:-).