Potato, Egg and Corn Salad With Buttermilk
JustJanS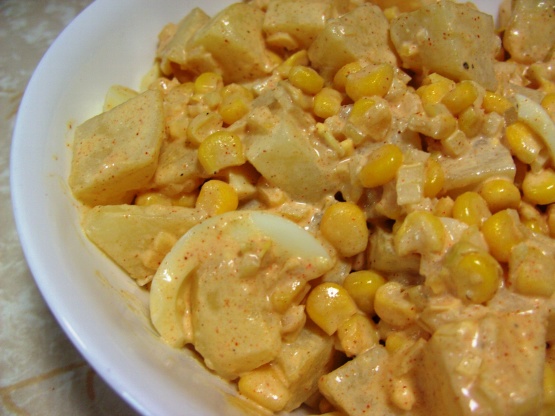 A delicious potato salad. It goes well with a green salad on the side for vegetarians, or as a side dish with chicken or meat. You can prepare the potatoes and eggs ahead of time, but using them warm is nice too. If sweet corn isn't in season, use a can of kernels, well drained. Additions for non-vegetarians: salmon, tuna, or a little chicken.

I really liked the flavours and textures in this, but visually it was a bit lacking. Next time I make it, I'll use green onions instead of shallots or add green parsley to the shallots. I think a bit of greenery would lift it no end. I had to use canned corn, so used roasted garlc (I could omit the oil then and reduce the fat count).
Peel and slice the potatoes into smallish cubes. Cook and drain, allow to cool.
While the potatoes cook, hard boil two eggs, allow to cool.
Remove the sweetcorn kernels from cob, if you're using fresh corn.
Slice the garlic.
Fry the garlic and corn kernels in the oil for 2-3 minutes, remove from heat.
Peel and slice the eggs.
Slice the shallots.
Into a salad bowl place the potatoes, eggs, corn mixture, shallots, cashews, spices, buttermilk and mayonnaise.
Mix, and serve with green salad and tomatoes.