kolibri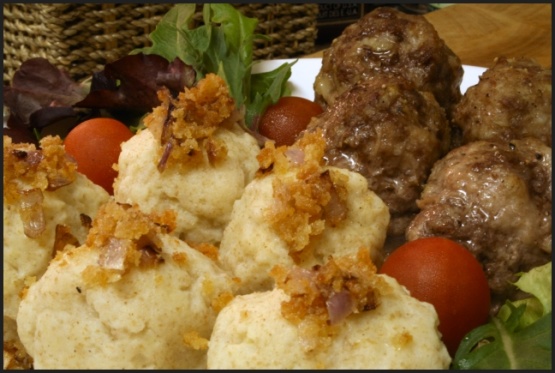 This recipe is from a cooking class I once took. They make a nice change from the usual potato accompaniments. Nice with a beef or pork roast. Don't let the spices turn you away. They're just what the dumplings need.

Top Review by Mrs B
I think there's a knack to making these; and I don't have it :-) A bit of a sticky experience, but I suspect that was because I didn't allow enough cooling time at stage 2. Still the spices add a very nice twist and the lovely onion crumb topping helped hide even the worst of the very dodgey shaped dumplings :-)
Boil potatoes and put through ricer.
Let cool.
Add eggs, spices and salt, beat well.
Roll into balls the size of golf balls.
Drop in boiling salted water to cover.
Simmer 20 minutes.
Lift out.
Brown onion and bread crumbs in butter.
Sprinkle crumb mixture over dumplings.