Parsley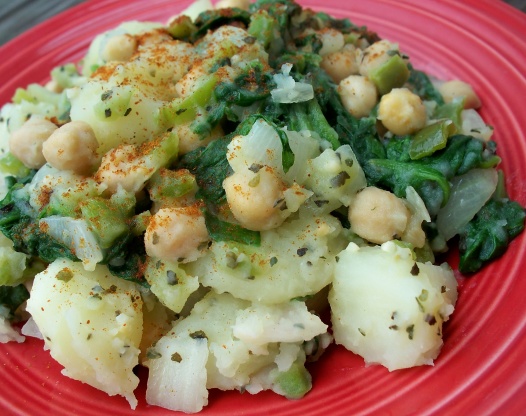 POSTED FOR ZWT 4. A typical central African dish, simple and nutritious. They would almost always use dried beans and cook them, but obviously it's easier to use canned beans.

Delicious and vegan :) I added salt and pepper, along with some other spices. I only had half of a red pepper, so I will have to try again later when I have all of the ingredients. Doesn't look very appetizing, especially as leftovers, but I promise it tastes MUCH better than it looks.
4

potatoes, very large, peeled (or use more, smaller potatoes)

2

cups spinach, washed, chopped, and pushed firmly into the cups

1

cup oil (this sounds like too much, cut down by all means)

4

garlic cloves (or equal in mashed garlic or dried garlic flakes)

2

cups garbanzo beans

1

red pepper, seeded, diced

1

green pepper, seeded, diced

1

medium onion, peeled and chopped

1

teaspoon oregano (or use 1 tblsp fresh)

2

teaspoons dried basil (withstands heat better than fresh)

Garnish
Cut potatoes into chunks and boil about 8 minutes in a little water.
Add spinach and cook until potato chunks are tender, then drain well in a sieve or colander.
Heat the oil in a large, deep saucepan until very hot.
Add the potatoes, spinach, beans and remaining ingredients.
Fry until potatoes are creamy and ingredients are cooked through. This will be quite quick in the hot oil. (Decide yourself on the quantity of oil needed).
The recipe says merely to sprinkle with red pepper powder, simmer 3 minutes, and serve!
I'm not sure, but it might need some draining. Follow your chef's instincts. These recipes are never perfect as given!