alligirl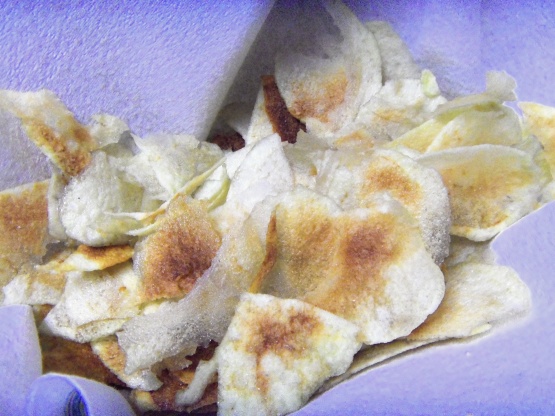 We tried these tonight and they made a delicious treat. Be sure to let them cool all the way. I did minor change for our tastes The recipe is from allrecipes.com and was submitted by Jessica.

Who could have guessed that potato chips could be made in the microwave? Not me! LOL But, these were great! I used a glass pie dish, and found that it only took about 2:15m -2:30m for mine to be crispy. (1100w microwave) They are best the first day, and are not greasy at all. :) I will be making these again, for an almost guilt free snack! I had to remind myself to take a pic before I ate them all up! Thanks for sharing, happynana! :)
14.79

ml vegetable oil (more may be used)

1

potato, sliced paper thin (peel optional)

2.46

ml sea salt, to taste
spices, of your choice (I used Cajun seasoning but think dried dill weed would be great too.)
Pour oil into a plastic bag. Add potato slices and shake to coat.
Coat a large diner plate lightly with oil or cooking spray. I used a 10 inch casserole dish, using cooking spray.
Arrange potato slices in a single layer on the dish.
Cook in microwave 3-6 minutes, or until lightly browned (if not browned, they will not become crisp). Times will vary on the power of your microwave. Mine took 6 minutes.
Remove chips for plate/dish and sprinkle with salt, and other seasonings, if desired.
Let cool.
Repeat the process with remaining slices. You will not need to keep oiling the plate/dish.