Potato Chip Chicken Nuggets ( Any Flavor)
Prep 10 mins
Cook 15 mins

Take the challenge! Any flavor potato chip will work for your own taste buds! It will work for a meal or appetizer! I love to make it with the 2 flavors listed but I will try it next with BBQ chips! I saw this on the TV & tried it twice. It is so simple & easy plus tasty. I really enjoyed this & hope you will.
2 cups of your favorite potato chips (try sour cream & onion or the new dill pickle chips)
1 egg
2 tablespoons milk
6 chicken breast fillets, cut into 1 1/2-inch cubes
1⁄3 cup butter, melted
Directions
Preheat oven to 350°F.
Spread the crushed potato chips in shallow dish.
Beat together the egg & milk in a shallow bowl.
Dip the chicken cubes into egg mixture & then dredge them in the chips.
Place the chicken nuggets on a baking sheet & drizzle with melted butter.
Bake for 15-18 minutes or until golden brown.
The nuggets can be frozen after baking!
SERVE: (with your favorite sauce).
Most Helpful
I used sour cream and onion chips and they added a lovely flavour to these nuggets. Loved how simple they were to put together and the chicken was lovely and moist. Great idea, can imagine they would be fun to dip with children! Both the fiancé and I loved these!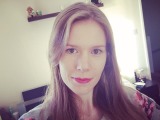 We almost never make anything like this but because it was baked in the oven we thought we would try it. We marinated our cubed chicken in BBQ sauce for about an hour or so and then coated with Lay's BBQ chips. It was good but would recommend using a pan that won't keep any liquid around the chicken, as mine turned out to be quite soggy on the bottom of the pieces. The top was nice and crunchy, will maybe use a broiler pan next time for drippings to drain into another pan. It was good and we will make it again trying a different kind of chip next time ;) perhaps the sour cream and cheddar ones........

Excellent everyone in my house enjoyed these, I used some thai sweet chilli sensations crisps, as everyone thought they were a little to hot on there own, but they were delicious! Very easy to make, with no complaints from the family!! :) I will defiantly make again, probably experimenting with other flavours.