Potato Cheese Pie (Derf) / Quiche
CoffeeB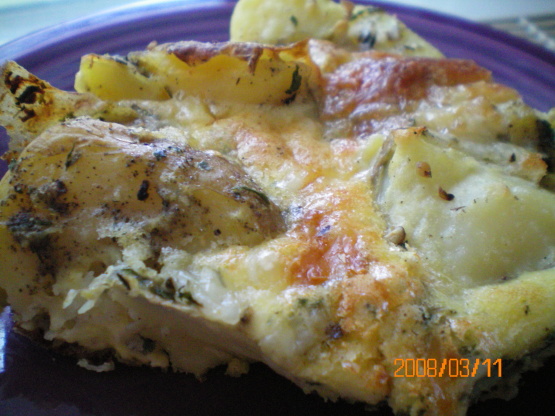 I made Derfs Herbed Onion Potatoes Herbed Onion Potatoes had left overs and came up with this pie! Just take note on my review. I added cooked crumbled bacon to my potatoes. I'm sure this will work without them! I'm actually eating it as I'm typing up this recipe.It's great for breakfast,snack, lunch, or a side to dinner. Easy to bring for a picnic, or a pot luck. You can make it with a pie crust just fill the pie crust and cook the first 15 minutes at 425 degrees then reduce the oven temperature to 325 degrees for 30 more minutes.

Wow, this is very rich! Made it for supper last night, we had just it with garlic toast. I scaled the recipe to half, but left the sage, rosemary and thyme the same, used dried, and used 2% milk instead of cream. You might say the light version, it worked out ok and was quite delisious! It would make a good side for a special dinner. I cooked it in a casserole and used half a recipe of Herbed Onion potatoes. I like the changes you made to the recipe for special occasions, it changes it from ordinary to special and rich.
Spray pam in a 9 inch deep pie pan.
(Or butter) Set oven at 350 degrees.
Mix leftover potatoes and swiss cheese.
Place in pan.
In a bowl mix eggs, cream, grated cheese, pepper sauce,fresh herbs,garlic salt, salt and pepper.
Pour over potatoes and cheese mixture.
Bake for 45 minutes till nice and puffy and slightly browned.
Remove from oven and let set for 5-10 minutes.