Marlene.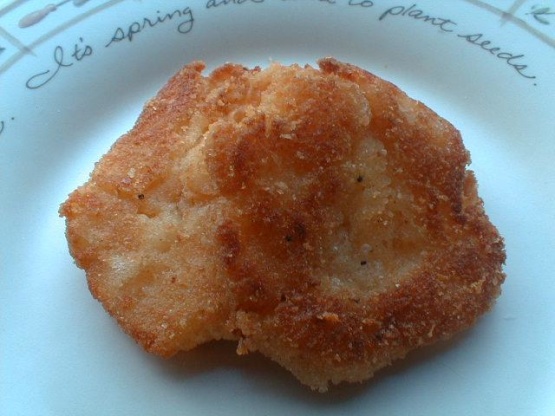 I always make extra mashed potatoes so I can make these.
These were delicious! I had a bit of trouble forming them (maybe not stiff enough mashed potatoes to start with?) but I'm not going to change the 5 star rating because of that. I managed to form them into small rounds , and fried them up and oh my goodness! Crispy outside , warm, soft creamy, cheesy mashed tater inside. These were a BIG hit at my house tonight!!! Thanks so much for posting the recipe!
Break up potatoes.
Beat egg in blender until frothy.
Add potato pieces gradually, beating at medium speed until blended.
Stir in cheese and salt.
Shape as desired.
Dip into crumbs, them milk, and again into crumbs.
Fry in shallow hot fat until golden brown on all sides.