Potato Casserole with Spinach and Feta
mosma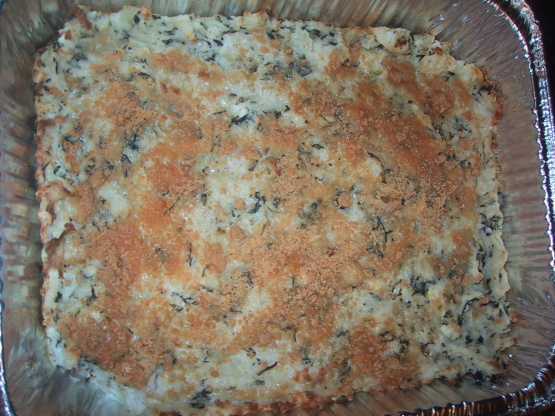 This is a good way to get my kids to eat spinach and is a delightful dish.
Peel potatoes, cut in half and drop into cold water.
Drain and place in a large saucepan and cover with hot water.
Cover Saucepan and bring to a boil.
Reduce heat and continue boiling gently, partially covered until potatoes are tender, about 20 to 30 minutes. Mash with a potato masher. Stir in butter, sour cream, salt and pepper.
Preheat oven to 350 degrees F.
Butter a 9x13 inch baking dish. Wash fresh spinach leaves. Place wet leaves in a microwave-safe dish, cover and microwave on high until just wilted, from 2 to 3 minutes. Or place in a wide saucepan and stir over medium heat just until wilted, about 5 minutes. When cool enough, squeeze handfuls of spinach until dry. Coarsely chop and place in a medium size bowl.
Combine the spinach, garlic and feta cheese.
Stir spinach mixture into potatoes.
Spoon into buttered dish swirling top slightly.
Sprinkle with Parmesan cheese.
Bake, uncovered until golden and a knife inserted in center feels warm, 40-50minutes.