Derf2440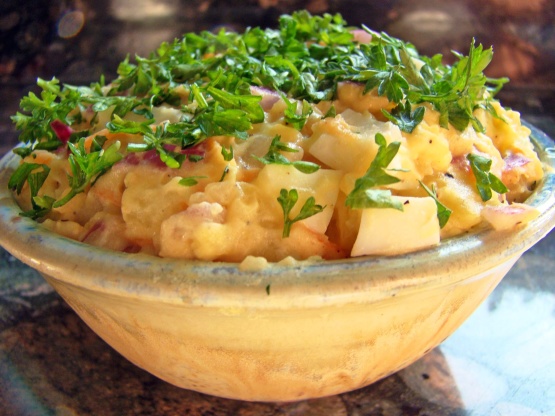 Great picnic potato salad, no eggs.

Enjoyable potato salad with great added color from the carrots. I left out the red onion, but added a couple of chopped sweet pickles along with some pickle juice. I needed to use more mayonnaise than called for to get all the ingredients sufficiently coated. Topped with paprika instead of cayenne.
In a large bowl mix together potatoes, spring onions, red onion, parsley and cheese.
Add pepper and taste, only add a little salt if required, the cheese adds salt.
Add mayonnaise and mix thoroughly.
Spoon into serving dish; sprinkle with cayenne and garnish with parsley sprigs.
Refrigerate for at least an hour.