Potato, Caramelized Onion, and Goat Cheese Gratin
lazyme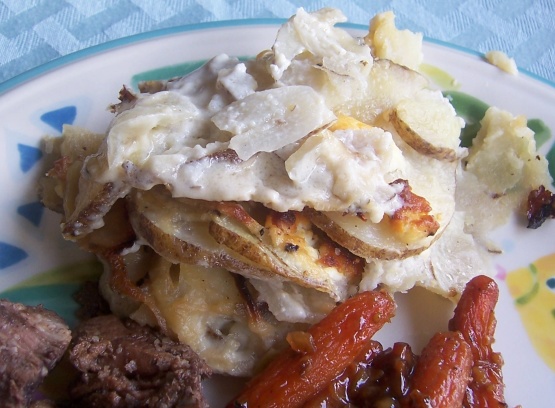 This is now my favorite potato gratin of all time. The caramelized onions mixed with the goat cheese gives this dish a very rich flavor. Instead of all of the prep work stated in the recipe, I just use a mandoline to slice the potatoes (with the peel on) and layer the dish with raw ingredients. I have started adding about double the goat cheese called for. These are even good cold the next day. From Gourmet, September 1995.

I made this last night. Excellent . Soo yummy, I added a little crumbled bacon left over from breakfast. I did not precook or peel the potatoes, just sliced in my food pro. Thanks for the great recipe.
2

tablespoons olive oil

2

lbs onions, halved lengthwise and sliced thin crosswise (about 7)

1

teaspoon fresh thyme, minced or 1⁄4 teaspoon dried thyme, crumbled
2 1⁄2 lbs large red potatoes (about 7)
1⁄4 lb mild soft fresh goat cheese, chilled, crumbled (about 1/2 cup)
1 1⁄2 tablespoons unsalted butter, cold, cut into pieces

1

cup milk
In a heavy 5- to 6-quart kettle heat oil over moderate heat until hot but not smoking and cook onions with thyme and salt and pepper to taste, stirring occasionally, until golden, about 15 minutes.
Reduce heat to moderately low and cook, stirring frequently to keep from scorching, until golden brown.
Remove kettle from heat.
While onions are cooking, bring a large saucepan of salted water to a boil for potatoes.
Peel potatoes and cut crosswise into 1/4-inch-thick slices.
Add potatoes to boiling water and cook 5 minutes from time water returns to a boil.
Drain potatoes well in a colander.
Preheat oven to 425°F and lightly oil a 2- to 2 1/2-quart gratin dish or other shallow baking dish.
Arrange half of potatoes, overlapping slightly, in dish and season generously with salt and pepper.
Cover potatoes with onions, spreading evenly, and top with goat cheese.
Arrange remaining potatoes, overlapping slightly, over cheese and season generously with salt and pepper.
Dot gratin with butter.
Gratin may be prepared up to this point 2 hours ahead and kept at room temperature, covered.
Pour milk evenly over potatoes and bake 35 minutes, or until potatoes are tender and top is golden.
Gratin may be made 1 day ahead and chilled, covered.
Reheat gratin before serving.