rpgaymer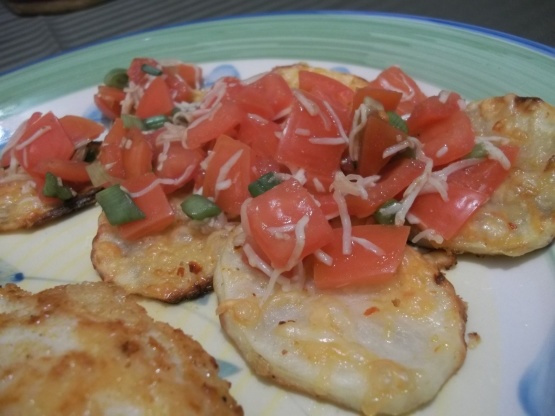 Easy to make tasty potato appetizer, snack, or side dish. Cheese and tomato topping on slices of potatoes. Adapted from potatogoodness.com. I used dried basil instead of fresh for the garnish; you could use one of the optional toppings posted here or create your own. I parboiled the small ends of the potatoes for home fries or you could keep them to add to soup.
I really liked this! I sliced the potatoes very thinly, and they ended up like crispy kettle chips. I also did not put the tomato topping on the potatoes until they were on the plate, as I just preferred serving it cool like regular bruschetta. I had to use shredded cheese instead of fresh mozzarella, and green onions instead of basil, but it worked well. Thanks for sharing.
Preheat oven to 425 degrees Fahrenheit.
Line 2 baking sheets with foil; lightly oil.
Slice potatoes 1/4-inch thick; discard small, rounded ends or see description of the recipe above for ideas to use them.
Place slices in a medium bowl with 2 Tablespoons olive oil; toss well to coat.
Add grated Parmesan cheese, salt and red pepper; toss again to coat as evenly as possible.
Place in a single layer on baking sheet.
Bake for 25 minutes.
While potatoes are baking, stir together 1 Tablespoon olive oil, tomato, Mozzarella, balsamic vinegar, and garlic in a medium bowl.
Top potatoes with equal amounts of tomato mixture.
Bake for 5 more minutes or until cheese is just starting to melt.
Sprinkle with basil or other garnish as desired.
Serve warm or at room temperature.