Potato & Beetroot Salad ( Cyprus Dish )
Um Safia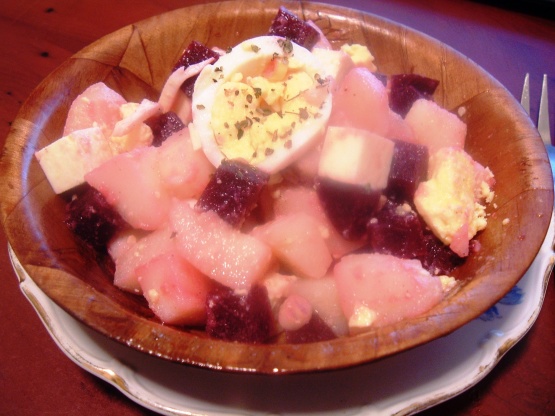 A delicious Cyprus salad. Potatoes, beetroot, olive oil and lemon juice are the main ingredients. You can be creative and leave behind or add any ingredients you like ( like tomato, cabbage or cucumber ).You can also use more olive oil or lemon juice if you want.

Made & reviewed for my PAC baby! Wow, wow, wow! This salad is absolutely delicious - just close your eyes & you're transported to Cyprus! This dish is all about clean, fresh flavours & they compliment each other so very well. I used vacuum packed cooked beetroot which made this super quick to prepare. The whole family really enjoyed this for a light lunch with fresh toasted flat bread. I'm so sorry about the photo -DS scratched my camera but I'll take a better photo asap. Thanks Nana for a great recipe :)
Peel the potatoes and cut into cubes or thin slices.
To boil fresh beetroot, the roots are placed in a pan of lightly salted water, covered and simmered for between 45 minutes and two hours, depending on their size. Small beets and minibeet varieties may cook in as little as 30 minutes. Large mature roots may take at least two hours to cook. After boiling, beetroot can be refreshed in cold water, which also cools them enough for the skins to be easily removed. Peel them and cut into small pieces. You can use pickled beetroot if you like.
Add the chopped spring onion and sliced eggs.
Mix these ingredients together and add the olive oil, lemon juice, vinegar and salt.
Serve with feta cheese or cottage cheese.