Potato & Bacon Soup - Weight Watchers (Ww)
DuChick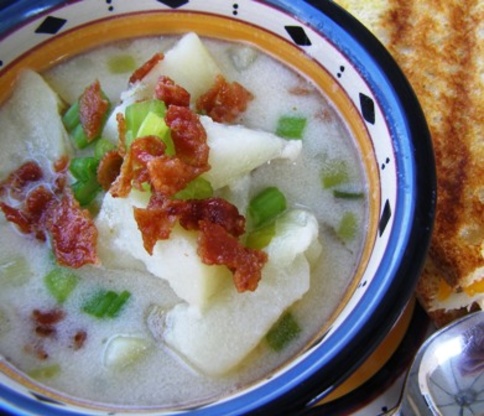 I Love this soup, and it's healthy and low in points. A great lunch or dinner with a salad. 4 Pts. per 1 1/2 C Serving - makes about 4 servings

Calling all potato soup lovers...this is a terrific recipe! Especially, if you want to cut calories and fat w/o losing any taste, put this on your try list. I used reduced-fat bacon, added some ground pepper and topped each serving with a sprinkling of 2% shredded cheddar (this would increase pt. value). Served with a turkey panini on the side, we had a most enjoyable lunch! Thanks Carrie!
Coarsely chop the baked potatoes and set aside.
Cook the bacon in a soup pot until crisp and set aside, leave 1 teaspoons drippings in the pan.
Add 1/2 the scallions & garlic to drippings and sautee until soft.
Add broth, salt, cayenne, and chopped potatoes, mash some of the potatoes against the side of the pan w/ a wooden spoon or w/ a potato masher.
Bring to a boil, reduce heat to simmer and cook 2-3 moremonites.
Add in half-and-half and parsley, return to simmer.
Serve w/ remaining green onions & crumbled bacon on top.