teresas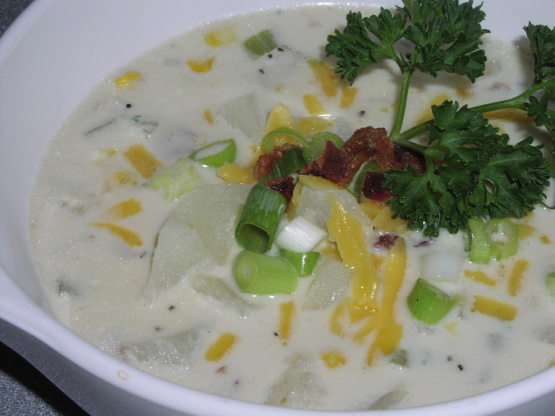 A satisfying comfort food that can be jazzed-up with the same toppings you would put on a baked potato (cheese, green onions, bacon). This is a great soup for a pot-luck, because it is universally enjoyed by kids and adults. NOTE: The original version called for Half 'N Half, but I've found that milk works just fine.

We really enjoyed this. The flavor is very similar to my WW baked potato soup but this has more fat etc. I made the soup before the recipe was changed and the direction were different. So I have some yellow corn added into my soup. I used half-and-half which the recipe called for before the change. Very delicious soup. Thanks for posting. Made for PAC Fall 2008
Prepare vegetables; dice onion and celery. Peel and dice potatoes into small pieces.
Saute onion and celery in butter about 8 minutes over low heat until softened.
Add potatoes and chicken broth. Simmer 15-20 minutes until potatoes are tender.
Add cream cheese to soup (Hint: pour some of the hot soup into a mixing bowl with cream cheese; whisk to blend, and then pour this back into the soup pot).
Add chopped bacon and milk (if you like a richer soup, use Half-n-Half instead of milk).
Option - add a pkg. of frozen broccoli, cooked, drained and chopped, or a package of frozen corn.
Season with salt and pepper.
Serve with additional toppings (cheese, chopped green onions, bacon).