Potato, Apple, and Celery Salad
Parsley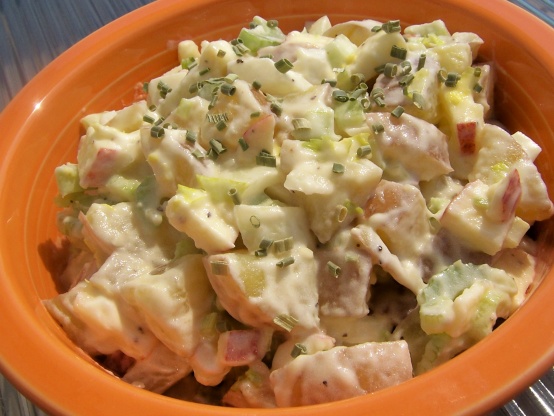 This is a great change from regular potato salad! Love it! An English take on a French recipe, now all American!
This is the first time I made this recipe and it is the first time I had 4 ladies at the pot luck dinner ask for the recipe!! It was a BIG HIT!! I needed this to feed more folks so I doubled the potatos but I only upped the other ingredients by half ( so if it called for 1/2 cup of mayonnaise - I only upped it to 1/4 cup to a total of 3/4 cup ) and 6 celery stalks became 9.... I used red potatoes since I did not use red apples ( used gala ). I found that this process took a lot more time than the time on the recipe - things had to cool - things had to chill. I would suggest this be done on day ahead and that you plan it to take 2 to 3 hours ( with cooking and cooking and chilling ).
Put the potatoes into a large saucepan of boiling salted waer and simmer gently for 10-15 minutes, until just tender.
Drain, leave to cool, then cut the potatoes in half.
Put the potatoes into a large salad bowl, add the vinaigrette dressing, and toss gently while the potatoes are still warm.
Add the celery, onion, and apples to the potatoes.
Mix together gently so that all the ingredients are thoroughly coated with the dressing, then add salt and pepper to taste.
Cover and chill for at least 1 hour.
Gently stir in the mayonnaise, taste for seasoning, sprinkle with the chives, and serve immediately.
Vinaigrette Dressing: Put all into a screw-top jar and shake until well combined.
Makes 2/3 cup.