Annacia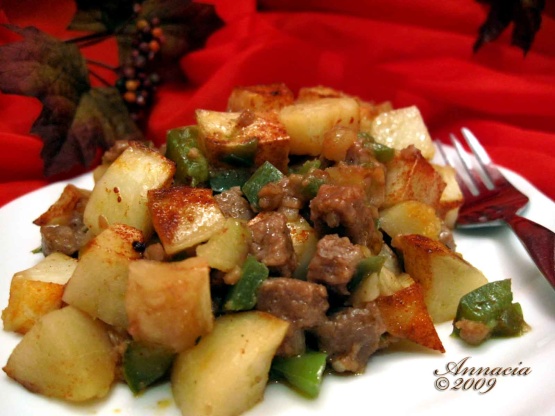 Taken from a Healthy Meals in Minutes card

Loved the hearty and homey flavor. I used veggie sausage patties that I diced, the chicken broth and smoked paprika. The single thing that kept me from making this a 5 star review was that even after the hour of baking the potato was still quite "firm". I'm sure that I'll make this again because I really do like it but next time I'll either pre-cook the potato some or cover the dish for about the first 45 mins .......or maybe both. I should also say that I made a single serving and the portion was right on for one person.
Preheat oven to 375°F.
Spray a 9in square baking pan with cooking spray.
In a med skillet over med heat, cook sausage until no longer pink, about 5 minutes.
Place on paper towels to drain.
Spoon sausage into prepared pan.
Top with pepper and garlic, sprinkle with 1/2 of oregano and onion flakes.
Place potatoes in a single layer over pepper.
Pour wine or broth over potatoes.
Sprinkle with paprika and remaining oregano and onion.
Bake until potatoes are tender, about 1 hour.