Potato and Red Pepper Frittata
dojemi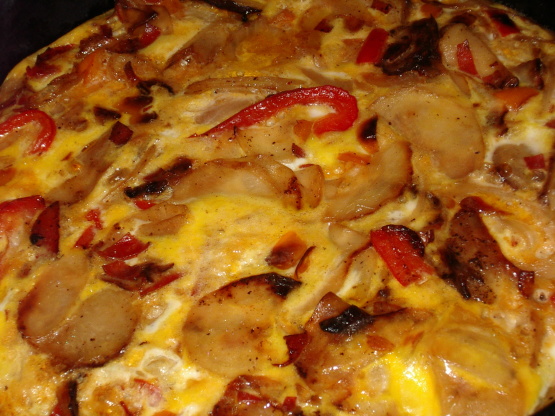 This recipe is from Everyday Food. The original recipe calls for 2 teaspoons chopped fresh rosemary. I choose to omit it. Being onion lovers, I added a whole onion rather than 1/2 as the recipe stipulated. NOTE: It's okay if potatoes are not cooked evenly. Some will be browned; others only transparent. The original recipe suggests using an 8-inch skillet.

My husband loved this and I loved that it was healthy. I sauteed the peppers and onions for 10 minutes as we don't like them crunchy; next time I would add fresh garlic. I would also use one large potato instead of two - I ended up using a 12" skillet to accommodate all of the potatoes and then transferred everything to a 10" skillet for baking. I would either add a creamy cheese (goat cheese, cream cheese, even a bit of light velveeta, to add creaminess to the dish which I found a little dry, or cook for the lower end of the suggested time - 15 or 16 minutes. Finally the addition of fresh herbs - chives, dill, parsley would add a nice punch.
Preheat oven to 400°F.
In a 10-inch ovenproof skillet, heat 1 teaspoon of the olive oil over medium heat.
Add the onion and bell pepper, and cook, stirring occasionally, until onion is lightly browned, about 5 minutes.
Transfer to a bowl and set aside.
Heat remaining 2 teaspoons of olive oil in the skillet.
Add potatoes; season generously with salt and pepper.
Cook over medium heat, tossing often, until potatoes are tender and lightly browned, about 10 minutes. See 'note' in description above.
Transfer potatoes to the bowl with the onions and peppers and toss to combine.
Return mixture to skillet (add more oil if necessary).
Flatten mixture with a a metal spatula.
In a large bowl, beat eggs with 1/2 teaspoon salt and 1/8 teaspoon pepper.
Pour over potato mixture; tilt pan to distribute evenly.
Bake until set, 15 to 20 minutes.
Cut into wedges and serve.