Potato and Onion Skillet Fry
PaulaG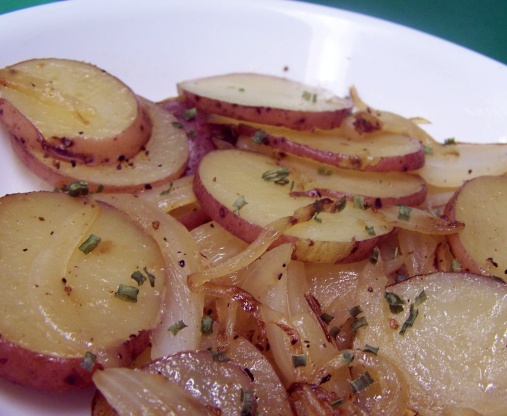 This Irish potato recipe is a great way to use leftover baked potatoes! I love potatoes!!!

Top Review by Lynnsy
Amazing! I've made this twice since i discovered them last Thursday. Ever since my Fiance, begs me to make them every night. I altered it just a little by leaving the skins on and adding a fresh garlic and allowing it to caramelize with the onions. Being college students this dish is wonderful since onions and potatoes are so cheap =)
1

large onion, peeled, halved and thinly sliced

2

tablespoons butter

1

tablespoon olive oil

4

medium potatoes, baked (or boiled)
salt and pepper
Heat the oil and butter in a skillet.
Add the onions and cook until soft and lightly browned.
Remove the onions from the pan with a slotted spoon.
Reserve.
Slice the potatoes into 1/4 inch slices. Add to the hot pan and brown on both sides. Return the onion to the pan, toss and season.
Serve warm.