Potato and Mozzarella Pie
ImPat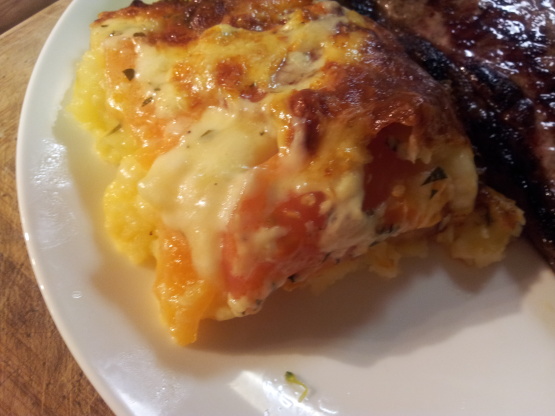 This tasty side dish can be made ahead of time and refrigerated until ready to bake.

Top Review by ImPat
I must admit we are not big fans of mashed potato casserole style dishes but this one went down really well (with the DH saying he would definitely have this again), the only change I made was to use sharp cheddar cheese in place of the parmesan cheese and then poured of the fat from the casserole dish (used a rectangular corningware style dish) and for us that would be 5 serves (the DH and DS ate half but the DM and I could only get through a little over half of our serves but it tasted delicious. Thank you loof made for Aussie/Kiwi Recipe Swap #77 June 2013.
Peel and cube the potatoes. Boil in salted water until tender; drain. Mash the potatoes, stir in 1/4 cup butter, and season as desired with salt and pepper.
Grease and lightly flour a 9inch pie pan. Spread the mashed potatoes in the pie pan.
Cut the mozzarella into 1/4 inch thick slices. Place half of the cheese on the potatoes.
Peel the tomatoes and cut into 1/2 inch thick slices. Arrange on top of cheese and potatoes. Sprinkle with oregano, basil, and salt and pepper.
Top tomatoes with remaining mozzarella. Sprinkle with grated Parmesan cheese and 1/4 cup melted butter.
Bake at 425°F for 25 minutes.