Potato and Chickpea Salad
loof751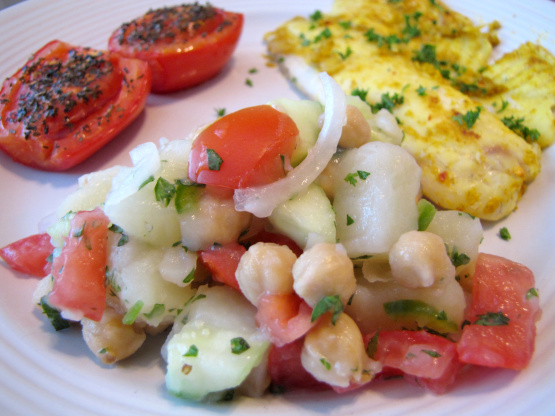 We ate this at our local Indian restaurant recently. I decided to make it myself and we reckoned it was better as our ingedients were fresher! It was very rustic, so I wouldn't stress about how anything was cut..

Nice fresh and tasty salad! I loved how light this tasted, with only lemon juice and no heavy oil or dressing. The mint was a great touch; I used white onion instead of purple as that's what I had on hand (don't care for onions so left it out of my serving). Thanks for sharing the recipe!
Cook the potatoes until just tender (mine took 10 minutes), then cool.
Meanwhile, toss the other ingredients together in a bowl.
Add the cooled potatoes and season to taste with the salt.
Allow to sit for about half an hour for the flavours to come together then serve.