Potato and Chicken Teriyaki
Prep 15 mins
Cook 40 mins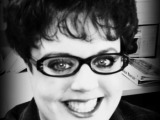 I got this from a magazine years ago and changed it some to suit our taste.
Directions
Cook the potatoes in boiling water just long enough so that are still firm.
In a large skillet toss and brown the chicken in oil over medium heat.
Set the chicken aside.
Saute the potatoes in the skillet.
Toss until potatoes are lightly browned. Add the chicken, garlic, garlic powder, onions and teriyaki sauce till heated.
Reviews
Most Helpful
This was amazing! I took a little spin on it, and had made teriyaki marinaded baked chicken the night before (jack daniels' teriyaki marinade) and then just did the potatoes slightly mushy when I boiled em, and then sauteed and added butter, and italian seasoning. It was so good, I had my friends over who loved it, and my SO and I fought over the leftovers. :D
i loved this. its different from other things i have made but me and my husband loved and will be having it again soon.