Potato and Cauliflower Mash
Prep 15 mins
Cook 30 mins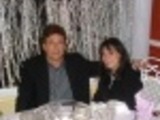 Onion-flavored cheese adds great flavor, but you can also use cream cheese with chives. For even more buttery flavor, use Yukon Gold potatoes - simply cut 1-1/2 lbs. into 1-inch chunks to keep the cooking time down. This is a great way to get the kids to eat cauliflower!
Directions
In large pot, combine potatoes and cauliflower with enough cold water to cover by 2 inches or so. Over high heat, bring to boil. Cook until tender, about 20 minutes; drain.
On medium speed, beat potatoes, cauliflower, cheese, butter, salt and pepper until smooth, about 2 minutes. Stir in chives.
Most Helpful
Yummy! I didn't have the right kind of cheese, so I used Laughing Cow light white chedder and a bit of blue cheese, plus a grated clove of garlic. This was good as is, but I'll try the right cheese next time!

This is delicious! I used some Laughing Cow brand light French Onion cheese. Loved the bits of peel from the red potatoes. Thanks for a lower carb mashed potato recipe!

I loved this! I used some cheese with spring onions that I had in the frisge and it was divine. Super tasty & creamy too even without milk. Even toddler DD ate this so I was able to sneak some cauli into her for a change. Thanks Jackie!