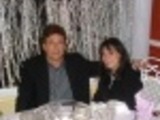 I suppose the title says it all. This is a nice, creamy vegetable soup loaded with potatoes and carrots. Delicious!
Directions
In saucepan, combine first 5 ingredients. Simmer, covered, 30 minutes or until vegetables are tender.
With slotted spoon, remove vegetables to blender or food processor. Blend until smooth.
Return to broth in saucepan. Mix in remaining ingredients. Heat through, but DO NOT BOIL. Garnish with fresh parsley.
Reviews
Most Helpful
The soup is warming and deliciously creamy. It is not a thick soup but more a broth type. I only added 1 cup of milk and 1 tbsp of butter and used my immersion blender right in the pot. It would be easy to thicken the soup by increasing carrot/potatoes and adding milk to personal preference. I will be making this again.

Easily earns five stars for being an easy and healthy meal! The dill was a wonderful touch! I threw together tonight and it simmered away while I made cornbread to go along with it. I did add some liquid to the food processor, otherwise the puree would not have gotten smooth. Also, I think I'd reduce the milk next time as it was fairly thin and I'd have liked it a little thicker... although I think the thickness would depend on the size of your potatoes.