Potato and Apple Pancakes
Derf2440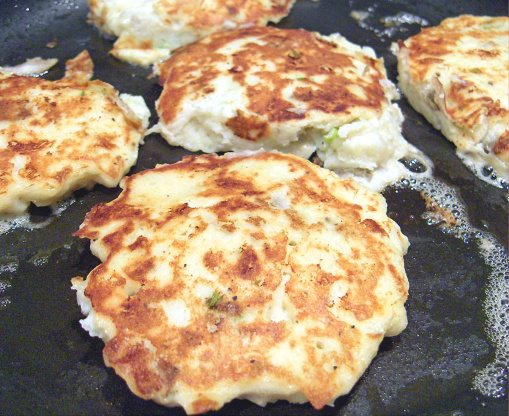 I just love potato pancakes and this recipe is a twist on the norm, serve with applesauce or sour cream.

We enjoyed these for supper to use up some leftover mashed green onion potatoes. The mashed potatoes worked out just great but I did add a second egg as they looked dry and there was no way I could "pour" them into the fry pan. The apple added a lovely hint of sweatness to them. Rather than oil I used veggie spray to cook them. I served them with garlic butter, recipe #179222, they went very well together. Thanks for posting I will make them again.
Heat oven to 250°.
Beat together the egg, flour, salt and pepper.
Peel and chop the apple.
Peel the potatoes and grate them.
Stir the apple and potatoes into the egg mixture.
Heat 1 Tbsp of the oil in a large frying pan over medium heat.
Pour in about 1/2 cup of batter for each pancake and flatten.
Fry as many pancakes as you can at a time without crowding.
Cook them until golden, 3-4 minutes a side.
Keep the pancakes warm in the oven while cooking the remainder.
Add the remaining oil as needed.