Kitty Z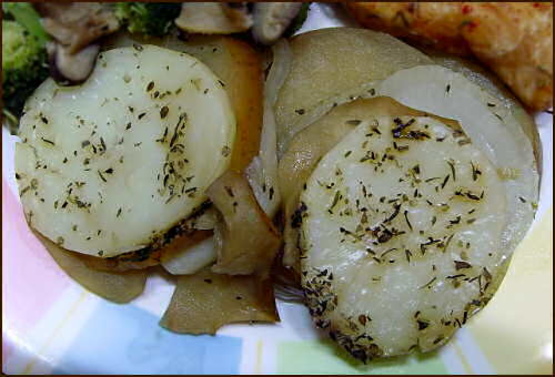 One of those things mum used to make.

This is a nice, homey dish. Potatoes are a good match for the sweetness of the apples and baked onions. I used mushroom broth and everything cooked up perfectly. I also halved the recipe and used an 8x8in pan; this was a bit too small so I think a 9x9in pan would be the better choice next time. One note, the recipe doesn't say where to add the salt so I omitted it; I thought it was just fine still. Thanks!
Peel onions and potatoes. Core apples. Cut onions, potato and apples into 5mm thick slices.
Places layers of onion, potato and apple into a 34x27cm casserole dish.
Pour stock over potato mix. Sprinkle sage over that dot with butter.
Cover casserole with a lid or foil and back at 200C for 45 minutes.
Remove lid and cook for a further 10 minutes.