chia2160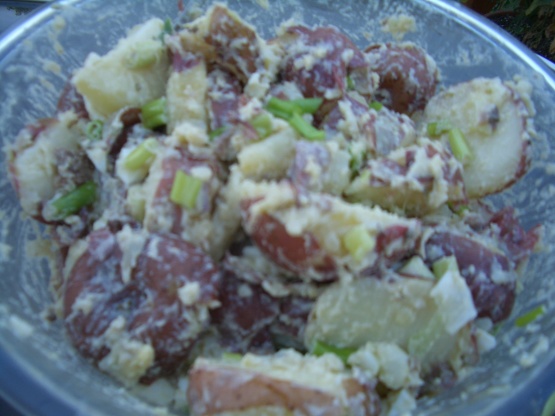 It's summertime, and I'm on a potato salad kick. This one is courtesy of today's NY Times.

Tasty alternative to mayo-based potato salads, especially for those who don't like mustard. I don't believe anyone except the preparer would know that it contains anchovies, although they actually do provide a nice flavor. We especially liked the scallions (as opposed to the ususal regular onions)- gives a nice crunch and color. Quick to put together, too. Thanks for posting!
Put potatoes in a large saucepan, and cover generously with cold water. Add salt, and bring to a boil. Simmer until tender when pierced with a knife, about 20 minutes. Drain, and leave to cool.
In a large bowl, whisk together the yolk of the hard-boiled egg and vinegar until smooth. Whisk in the sour cream and oil.
Finely chop egg white, finely chop anchovies and finely slice 4 scallions. Whisk all into egg yolk mixture.
Quarter potatoes; add to bowl of dressing. Fold to mix. Transfer to serving dish. Finely chop 2 remaining scallions, and scatter on top. Season with salt and pepper, and serve.