Potage Crécy (French Carrot Soup)
Boomette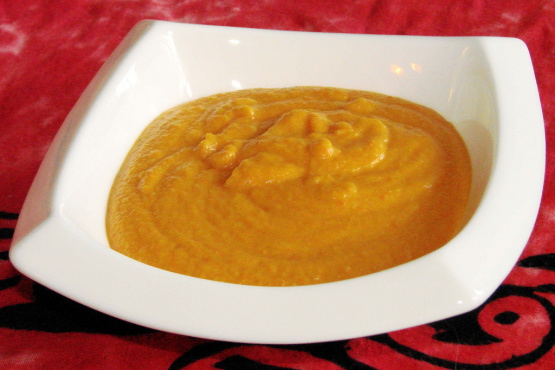 The carrots grown in the region of Crécy, France are some of the tastiest in the whole country so Carrot Soup in France is named "Potage Crécy". Traditionally, the English should eat carrot soup on the anniversary of the Battle of Crecy (August 26, 1346) when they triumphed over the French in the Hundred Years War.
This soup is very easy to do. After the 30 minutes of boiling, the carrots were tender. I pureed the whole batch in the blender. I used half and half cream instead of heavy cream. It was perfect. It's a wonderful soup. After I took the photo, my son ate all the soup in the bowl. And before tasting it, he said he wouldn't like it. But he loved it. Thanks Michael :) Made for ZWT8 for Diners, Winers and Chives
Over medium heat, melt butter in a heavy dutch oven. Stir in the onions and cook 5 minutes, until golden.
Add carrots, broth, tomato paste and rice. Simmer 30 minutes.
Puree in blender in small batches until smooth. Return to pan.
Add salt and pepper and stir in the cream. Simmer for 10 minutes.
Stir in the softened butter and serve with two carrot curls per serving.