Pot Stickers (Chinese Dumplings)
BluefrogJ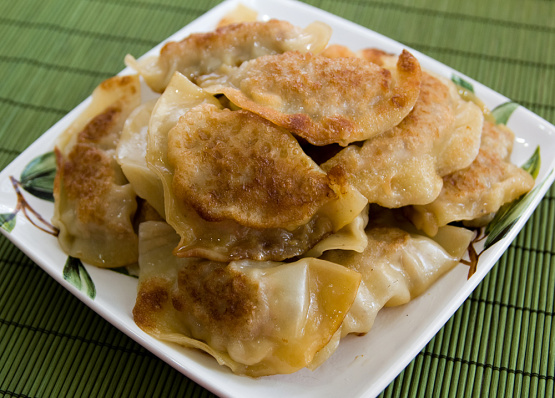 I found this recipe somewhere online and made a few variations. It tastes just like something you would get in the restaurants.

This is a great recipe; so good that I deemed it yummy enough to go into my "Family's Favorites" cookbook. The only change that I made was to fry them in EVOO. Served with recipe #62708.
Mix first 10 ingredients in a bowl.
Take a wonton wrapper and place 1 heaping teaspoon of filling in center.
Moisten edges with water, fold over and press to seal edges.
Add 3 tablespoons of Peanut Oil to a large skillet and saute until the bottoms are golden brown.
When golden brown, add 1/2 cup chicken broth, cover pan and simmer 8 minutes.
Remove from pan.
Reserve broth in a separate bowl and repeat process until all potstickers are cooked.
Keep warm on a plate covered.