Pot Sticker Chicken Egg Drop Soup
lazyme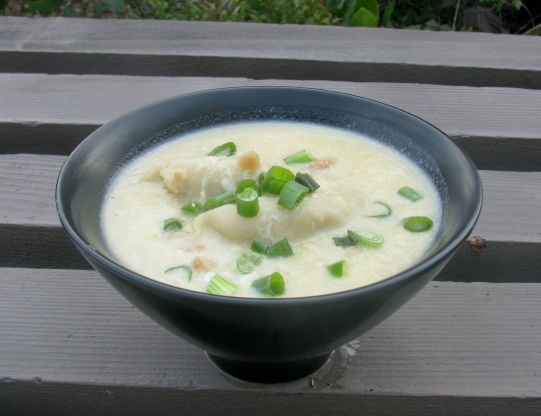 I was looking for an easy way to use up some frozen potstickers, and decided to pair this with a fast chicken soup for a winter's night mainstay. This has quickly become a favorite for us!
Top Review by Merlot
I always have a bag or two of frozen potstickers in the freezer and was thrilled when I found this recipe. This is a quick, easy and very flavorful soup. I'm a big fan of sesame oil and this soup hit the spot. I garnished it with chopped green onions. Thank you so much for sharing this great recipe, Claire!!! :-)
Mince half an onion and saute in 2- T wok oil.
Add the chicken broth; season with garlic and pepper.
Bring to a boil.
Add frozen potstickers and cook according to directions (about 8 minutes).
Mix cold water and cornstarch and add to broth.
Whip two eggs with some water (about 2 T.) Take the kettle off the heat, and pour egg mixture in a small stream, while stirring.
Add 1 teaspoon of sesame oil to the pot for flavor.
Garnish with scallions and minced ginger, if desired.