lazyme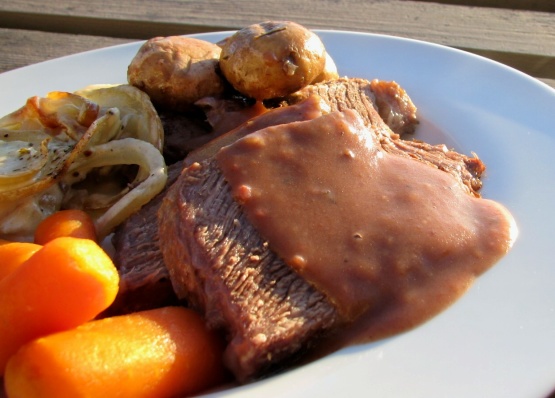 The secret ingredient in this roast beef dish is the ketchup...don't leave it out. My husband has been heard to say, you put what in the roast beef?

Excellent. I've made this several times and it's a favorite at our house!
Rub roast all over with flour, salt and pepper.
Heat oil in deep, heavy, non stick pan.
Add beef to hot pan and brown at medium setting on stove, turning often, for 10 minutes.
Lower heat to lowest setting on stove and add herbs, mustard, ketchup, red wine, water and bay leaf to pan.
Cover and cook roast for 1 1/2 hours.
Before adding mushrooms, add water if liquid has boiled to dry.
Add mushrooms, cover and simmer for 1/2 hour or until meat is tender.
Serve with mushrooms and gravy.
Remember when serving chuck roast to cut across the grain into thin slices.
So that you'll get the most tender slice.