Pot Pie #1 Alaska Chicken Pot Pie
Timothy H.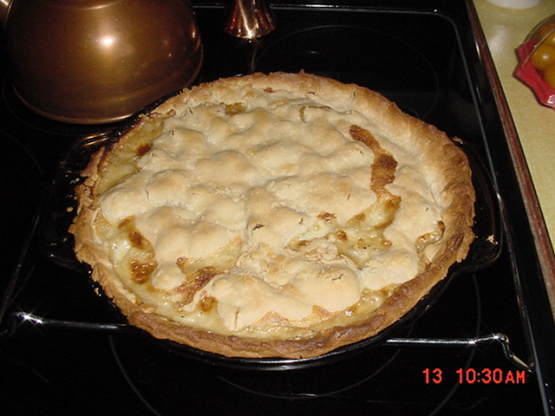 This a very easy and very good pot pie. It can be made with chicken,beef,shrimp or ham. A lot of homemade pot pie come out very dry by not putting in enough broth. Give this a try and it will be your # 1 pot pie.
Preheat oven to 425:.
In a sauce pan combine chicken,carrots,peas, and celery. Add water to cover and boil for 15 minutes. Remove from heat and drain. Set aside.
In the sauce pan over medium heat,cook onion in butter until soft and translucent. Stir in flour,salt,pepper,and celery seed. Slowly stir in the chicken broth and milk. Simmer over medium-low heat until thick stirring all the time.Remove from heat when thick and set aside.
Place the chicken mixture in the bottom pie crust. Pour in the hot liquid mixture.
Cover with top crust,seal edges,and cut away excess dough. Make several small slits in the top to allow the steam to vent. Bake in the preheated oven for 30-35 minutes or until pastry is golden brown and filling is bubbly.Cool for 10 minutes before serving.
Please Note: To speed up you can use frozen vegetable medley instead of boiling the carrots,peas and celery.